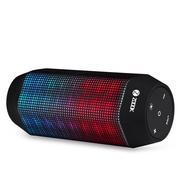 Zoook ZB-Rocker-2 Wireless Bluetooth Speakers (Black)
About Product :-
With dynamic LED lights and HD sound
Compatible with 2.1+EDR Bluetooth (charge should be greater than 25-percent) not compatible with Windows Phone
Speaker connectivity wireless
Built in 4400 mah lithium battery. Recommended Use 1 amp adapter for charging
Supports TF card, USB, Aux and Bluetooth feature
Rich sound quality. Recommended to use 320kbps bit rate music files to avoid Distortions.
More offers from Amazon India