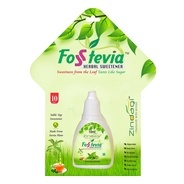 Zindagi FosStevia Liquid - Stevia Liquid Is Better Than Stevia Tablet - Natural Green Sugar-Free (200 Servings)
About Product :-
Zindagi Stevia liquid zero sugar is a 100% natural sugarfree. It is a Diabetic friendly sweetener, It is very helpful to reduce calories.
FosStevia contains pure Stevia extracts which is a 100% natural herb. Natural stevia liquid blends easily in any sweet dish & beverages, It can be cooked and baked.
Stevia sugar is the best substitute of refined sugar. Unlike other sweeteners it does not contain any artificial sweeteners and chemical like Aspartame, Sucralose and Lactose.
Stevia sweetener is 100% safe for Children, Pregnant Women & for daily use.
Material feature: Vegetarian, Shelf life: 12 months.
More offers from Amazon India