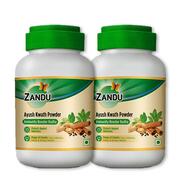 Zandu Ayush Kwath Powder (Kadha), A Traditional Ayurvedic Recipe for Boosting Immunity (Buy 1 + get 1 Free)
About Product :-
Ayurvedic Herbal Formula: Ayush Kwath Powder helps improve the immune system internally and protects the body from symptoms of infections.
Immunity Booster: Use Ayush Kwath Powder for better immunity. It contains Tulsi, Dalchini, Sunthi and Krishna Marich that helps relieve symptoms associated with infections.
Ayush Kwath Kadha: The antibacterial, antiviral and antifungal properties of Tulsi along with the anti inflammatory and antioxidant properties of Sunthi will help in easing cold and cough.
Good Health: Ayush Kwath Powder keeps your daily health perfect from the goodness of Ayurveda.
More offers from Amazon India