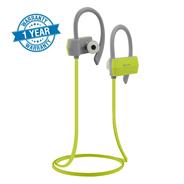 Zakk Sport In-Ear Bluetooth Earphone with Mic (Green)/Bluetooth headset/Wireless headphones
About Product :-
Featuring latest Bluetooth 4.1 CSR technology. Enjoy liquid treble and solid bass...without snaking wires!
Train at maximum capacity without worrying about drowning your buds.
Soft rubber finish and silicone ear buds that you can tirelessly wear all day. Secure hooks will ensure your headphones stay in place during any sport or gym exercise.
Enjoy music for up to 8 HOURS, while full charge takes only 2 hours. Talk on the phone or listen to music as long as you want and never run out of battery again! ADVANCED NOISE CANCELLATION - Featuring expandable foam ear tips. Exercise, run, workout, or enjoy music on an airplane without bothersome ambient noise to spoil you routine.
More offers from Amazon India