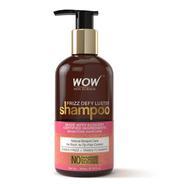 WOW Frizz Defy Luster Shampoo - No Parabens, Sulphates & Silicones - 300ml
About Product :-
WOW Skin Science Frizz Defy Luster Shampoo helps tame frustrating frizz that spoils your entire look. It also tames flyaway hair to help create smoother, softer tresses that stay in place.
Contains natural biolipids derived from soybeans that are very similar to human hair fibres. These biolipids surround individual hair strands from root to tip creating a smooth sheath all around to minimize frizz and flyaways without weighing down your tresses.
Works even on humid days when hair is more prone to frizz
100% bioactive powered formulation with no harmful sulphates, parabens or mineral oils.
More offers from Amazon India