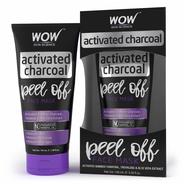 WOW Activated Charcoal Face Mask - Peel Off - No Parabens & Mineral Oils (100mL)
Shop Now
Countless vehicles in traffic, areas under construction, industrial exhausts & more, making your skin go haywire?
Pollutants cause a million skin problems such as hyperpigmentation, dullness, acne, allergies, fine lines & other visible signs of aging. Here comes WOW Skin Science Activated Charcoal Face Mask – Peel Off to the rescue!
Enriched with 3 key bioactives: Activated Bamboo Charcoal, Trehalose & Aloe Vera Extracts; they 3 together promote a powerful detoxifying action that works by trapping & removing pollutants even from the insides of the pores on your skin.
The key ingredient Activated Bamboo Charcoal Powder gently draws out the hidden-away toxins and impurities from deep within the pores; making your skin much clearer, brighter and younger.
While Aloe Vera Extract helps with antioxidants and minerals in abundance to neutralize harmful free radicals for spot-free, radiant skin; Trehalose Extract helps lock in the much-needed moisture for suppler and smoother texture.
About Product :-
More offers from Amazon India