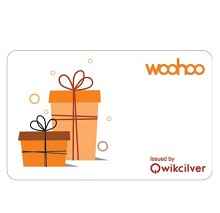 Woohoo Mobile App Rs.1000 Gift Card Rs.950 From Amazon.in
Visit Deal Page Here
Add to Shopping Cart
Place Order
About Product :-
This Gift Card is redeemable for all products on the woohoo app only.
Woohoo Mobile App gift card is usable directly at the outlets of the brands in Woohoo App. Download Woohoo App from Google Play Store for more details.
The card is valid for 6 months from the date of issuance.
To use this Woohoo Mobile App gift card, download the Woohoo mobile app => Add Card details => Select a store to spend => Key in the amount and choose Woohoo (GiftBig) as currency.
No returns and no refunds on gift cards or vouchers.
More offers from Amazon India