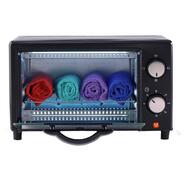 Wonderchef Health-Gear Prato Anti-Viral UVC Oven 9 litres
About Product :-
It is essential to disinfect everything you get into your home as the surface is touched by numerous people and may carry bacteria and virus.
It kills 99.5% germs that are there on the surface of your food, gadgets and other accessories with exposure to Ultra Violet C light (UVC).
Place the products in the oven and switch on UVC light with 15-minute timer.
UV tubes ensure consistent frequency and wavelength of UVC light for highest effectiveness, and last longer.
Suitable for sanitizing fresh vegetables, fruits, all kinds of food packets, smartphones, earphones, pens, wallets, clinical tools, currency notes & other accessories.
More offers from Amazon India