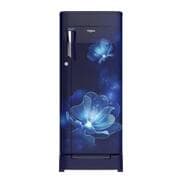 Whirlpool 190 L Direct Cool Single Door 5 Star Refrigerator with Base Drawer(Sapphire Radiance, 205 impc Roy 5s sapphire radiance-e/205 IMPWCL ROY 5S SAPPHIRE RADIANCE-E)
Bank Offer - Get 10% Instant Discount on With SBI Bank Credit Card.
About Product :-
From your favorite desserts to seasonal fruits and vegetables, you can relish fresh and delicious food items by bringing home this Whirlpool 190 L refrigerator. This kitchen appliance features Whirlpool's IntelliSense Inverter Technology, the Insulated Capillary Technology, and a Laminar Airflow to ensure effective and long-lasting cooling.
More offers from Flipkart