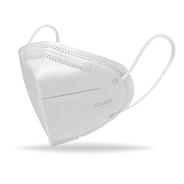 WESTA KN95 Protective Face Mask & Respirator, 5 Layer With Nosepin
About Product :-
Note: Buy only from TRADESATE for Branded product
Filtering efficiency: More than 95% with Polyester inner and outer shells which Prevent PM2.5, Prevent Dust, Prevent Bacteria, Prevent Haze.
Low breathing resistance with high filtration efficiency and head straps are ultrasonically bonded to the mask, no staples are used.
Tested for mean particle size of 0.6 Microns. Double Gas Mask Protection Filter Chemical Respirator Mask.
Adjustable Aluminium nose-clip for better fit and a soft inner foam nose cushion help to ensure proper fit and increase worker comfort.
More offers from Amazon India