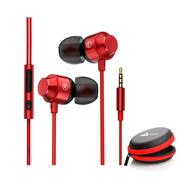 WeCool Mr.Bass Metal (W002) in-Ear Wired Earphone with mic
About Product :-
EARPHONES FOR MOBILE WITH MIC : WeCool In-Ear Wired Earphone gives you an immersive music experience in affordable cost. We cool earphones are tuned to perfection to make you experience all these music genres better than other earphones deliver. Audio technology is exclusively crafted for people who can listen to the music in a differently, and one who can Feel the Music so passionately.
EARPHONE WITH MIC ERGONOMIC AND ANTI-FALL DESIGN FOR COMFORT: Through our Extensive Research, we developed our WeCool in ear headphones with ergonomical angle which fits on your ear-canal and provide you a long-lasting comfort. This Anti-fall design also prevents it from slipping out the ears so easily during intense use. These additional key features give you a best buying experience.
BEST EARPHONES WITH POWERFUL DRIVERS DELIVERS A GOOD SOUND QUALITY : This Earphone is designed with 10mm powerful drivers which deliver an efficient sound quality and bass. You can enjoy your favourite songs with a better sound clarity, a good speaker resistance and frequency range up to 20Hz to 20,000 Hz. It promising you an unbelievable and guaranteed audio experience.
MOBILE PHONE HEADSETS WITH MIC AND IN-LINE REMOTE : This is a rare feature for any wired earphone and you will not find it so easily, but it is un-compromisable for our WeCool headphones for mobile. Multi-function button have a great controls that include single click Play/ Pause, single press receive the calls so conveniently and long press to activate google assistance without digging long time to your devices. The Mic which delivers a good sound quality while on calls.
EARPHONES FOR MOBILE COMPATIBLE TO ALL SMARTPHONES AND HANDSETS : With the Stylish design and amazing sound quality, WeCool wired earphones are compatible with the latest generation smart phones. It worked well all related devices with standard 3.5 mm jack.
More offers from Amazon India