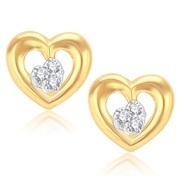 VK Jewels Agradable Gold And Rhodium Plated Alloy Earrings
Free Shipping for Amazon Prime Members,
Subscribe
About Product :-
The Earrings has given a unique looks with Cubic Zircons, where the finishing is saying a lot! Made with Original Cubic Zirconia. Comes in high quality packaging box which is perfect for gifting.
QUALITY- Made with Alloy studded with Cubic Zircons, Three times of 18k Yellow Gold Plating is used which is not easy to fade.
More offers from Amazon India