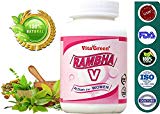 VitaGreen Rambha Live - Natural Female Power Capsules - 500 mg (Pack of 14)
About Product :-
Herbal capsule for female power, 2 capsules daily
Improve the general overall strength & Health of women
Blend of pure herbs , and aprodiasic , safe and effective for women.
Improves complete satisfaction , and enhance mood & perfomance.
Its an Herbal Product. It has been manufactured at a GMP certified facility.Contains No Preservatives, No Added Sugar, No Additives.
More offers from Amazon India