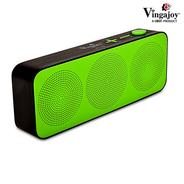 Vingajoy (Ubon) Bluetooth Portable Wireless Speaker
About Product :-
Universal jack- The 3.5 mm jack ensures universal compatibility of the loudspeaker to use with personal computers, mobile phones, television etc.
USB charging cable- The loudspeaker comes with a USB charging cable that lets you charge it easily with your device having the port.
Non slippery base- The loudspeaker has a rounded base which allows the loudspeaker to rest firmly on the surface and prevent it from slipping away.
Free Shipping
More offers from Amazon India