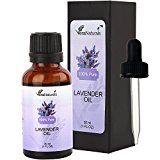 VeraNaturals Pure Natural Lavender Oil,30ml, Aroma Essential Oil for Skin, Hair and Aromatherapy
** On Sale for a very limited time. Get yours before it is gone** Questions or Concerns: Please reach out and we would be glad to help.
VeraNaturals 100% Pure Lavender Oil. Not reconstituted. Not Diluted. No Fillers. VeraNaturals Lavender Oil is Steam Distilled and Therapeutic Grade.
VeraNaturals Lavender Oil. For aromatherapy and aroma diffuser use. Freshen up air in any room using lavender oil in a diffuser.
Lavender essential oil for skin and hair. Restores skin complexion and reduces acne when used as a bath oil or by adding a few drops to your massage oil. Relax and Restore skin and body
Packed in an Amber Glass Bottle to Preserve freshness. Dropper included.
More offers from Amazon India