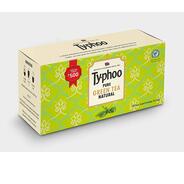 Typhoo Pure Natural Green Tea Bags, 100 Bags
About Product :-
FINEST TEA: We source one of the best products from natural sources to use in our teas and there are no artificial additives for flavor or coloring.
INFUSED WITH MAGIC: Green tea is rich in catechins that double up as a refreshing beverage and a calorie-free hydrating agent making every cup a magical experience.
FEEL-GOOD FACTOR: Relax with a cup of this tea, whether it's early in the morning, late in the evening, or simply in the middle of the day and you need a break in your schedule.
INGREDIENTS: Enjoy your brew enriched with pure green tea.
More offers from Amazon India