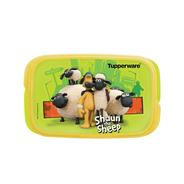 Tupperware My Lunch Shaun Sheep Box
About Product :-
The inner container has a liquid tight seal which keeps even the sauciest dishes from leaking into backpacks, even when the container is tipped on its side
The inner container is the perfect size for smaller portions and snacks.
The MyLunch is perfect for meals on the go.
The product can be used with or without the inner container placed inside the lunch container.
More offers from StudentKare