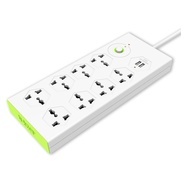 Tukzer 8 Way+2 USB Port Spike Guard / Surge Protector
About Product :-
Smart USB Support iPhone, iPad, iPod, Tablets, Android smartphones, MP3/MP4 Players, Gaming Devices & Other digital products charge. Specification: MAX-2500W, MAX-10A, 250V.

Surge protection and lightning protection included. Single Silver-nickel contact switch, prevents the electric spark and extends the service life.

Power line / plug wit CCC certification. The Rated Power of the product is 2500W. One piece copper bar structural designs for superior security.

(5.4 ft. / 1.6 mtr length wire) Using high quality insulation materials to keep the glow-wire resistance unburned at 750° C, and in- deformable at 100° C in test heat-test oven, which highly increases the security.

High flame retardant, high heat resistant. High precision phosphor copper with ultra-long service lifespan.
More offers from Amazon India