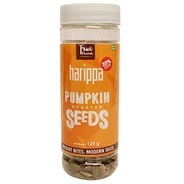 True Elements Roasted Non Salted Pumpkin Seeds, 125g
Free Shipping for Amazon Prime Members,
Subscribe
About Product :-
It's extremely beneficial for your heart and liver's health.
Consumption of these seeds also help in getting you a sound sleep as it contains Tryptophan.
They're rich in Zinc and plant based omega-3 fats.
It has minerals like Magnesium which help in regulating blood sugar levels.
Nitrogen flushed for extra freshness.
More offers from Amazon India