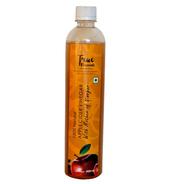 True Elements Apple Cider Vinegar with Mother of Vinegar (Unfiltered with Mother), 500ml
About Product :-
Mother of vinegar means it's rich in enzymes and is a naturally occurring substance.
It is made from Pure Apple Juice and it acts like an astringent for skin clearing purpose.
ACV helps in lowering cholesterol and lowering glucose levels in diabetes.
It also aids in weight loss and getting rid of dandruff.
Free Shipping for Amazon Prime Members,
Subscribe
More offers from Amazon India