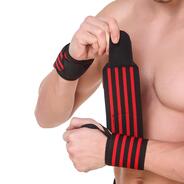 Trezop Wrist Support Band/Wraps with Thumb Loop Strap for Gym
About Product :-
PREMIUM QUALITY: Wrist Support Gym Band has thumb loop, Strong Velcro closure and dual elastics for flexible hold. Wrist Support is 10 times better than available market wrist supports.
COMFORT FIT AND ADJUSTABILITY: Wrist Support Gym Band is made out of high-grade polyester and fastening strap to give you premier comfort and stability. Just put them on and adjust to desired fit.
Thumb Loop Design -Each pair of wrist wraps comes with thumb loop to help hold whilst wrapping. Get the support you need by adjusting the tightness of the wraps to the desired support level.
TYPES OF WORKOUTS: Wrist Wraps for any type of workout including Weightlifting, Bodybuilding, Cross training, Strength training, Yoga, Shoulder presses, Bench presses, cleans and Jerks.
More offers from Amazon India