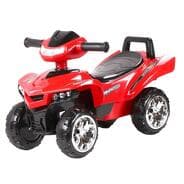 Toy House Racing Turbo Push ATV, Red
About Product :-
Safe and durable - toy house makes kids toys that are not only entertaining but safe. All toys are en71 certified which is defined by stringent European standards and hence free of banned phthalates. They are also bis certified which is defined by Indian standards.
Easy to ride - push handle are the perfect equipment to push along a tiny toddler at home or at the park.
Use it anywhere - all you need is a smooth, flat surface to have your kids on-the-move with this toy car. It is perfect for both outdoor and indoor playing and has stored 4 different music on the steering. Safety guard to set backrest handle. Storage under the seat for carrying toys.
Product details - racing turbo push atv is easy to clean. Assembly required. Suitable for kids between 1 and 3 years of age and has a maximum weight capacity of 15kgs.
Product Guarantee - toy house is committed to providing consumers with the absolute best price and value on our entire line of products. Note: this is a product of toy house and only racing turbo push atv car sold by toy house are guaranteed to be genuine with regards to this page.
More offers from Amazon India