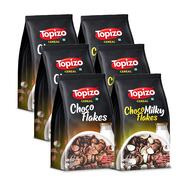 Topizo Cereal Choco Flakes & Choco Milky Flakes (Wholegrain High Fibre Wheat Chocos) Pack of 6, 1.2kg
About Product :-
Topizo Cereal is a healthy breakfast that you can have everyday with children, friends, family & kids. Perfect for birthday gift anniversary kellogs gift snack.
Made with Whole Grains, High fibre, Rich in Protein & with Iron Shakti to give you energy all day.
Zero cholesterol, No added preservatives, 100% Vegetarian, helps in weight loss, Multigrain Crispy even in hot milk.
Topizo Cereal Choco Flakes & Choco Milky Flakes (Wholegrain High Fibre Wheat Chocos) Pack of 6, 1.2kg
Try All Topizo Cereals: Choco Flakes, Chocos Milky, Muesli Fruit & Nut, Diet Muesli No Added Sugar, Corn Flakes, Honey Cornflakes.
More offers from Amazon India