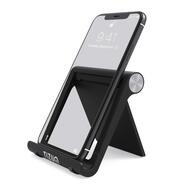 Tizum Z95 Multi Angle Portable Stand for All Smartphones, Tab & Kindle (Black)
About Product :-
Built: - Anodized Plastic finishing for that premium touch. Solid built with to quality hinges makes sure that the product will last long.
Design: - Ergonomic design that provides seamless viewing angles in all direction. Easy to watch videos and play games. Universal design fits all kinds of phones and tablets.
Usability: - Provides hands free usability for watching videos, playing games and reading books. Holds 4-10 inch devices with ease.
Features: - Rubber pads at the bottom of the stand to avoid slipping over surfaces. Anodizing helps in protecting the stand from scratching.
Ease of Use: - Easy to use, stylish and scientific design that helps in hands free usability. Provides convenience for playing games, watching videos and reading books.
More offers from Amazon India