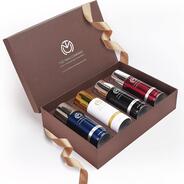 The Man Company Multifaceted No Gas Deodorant Set | Bleu, Blanc, Noir, Rouge
About Product :-
Gift Set for Men: Make this festive season special with the Man Company Multifaceted body perfume set of 4. The no gas body deodorants set for men comes with fresh fragrance that is long lasting. This fragrance is perfect for your stress-free day out with loved ones.
Blanc Body Perfume: The Blanc body Perfume for Men is the classic daily that you can wear to your work every day. It is light and not overpowering. The perfume fills you with lightness and freshness of citrus notes. The fragrance for the perfume offers a blissful experience each time you apply.
Bleu Body Perfume for Men: Keep calm and work out! Energetic and stimulating composition of bergamot, lavender and mandarin. Hence, fitness freaks, who love to hit the gym, would find this perfume for men to be an absolute bliss. Plus, the perfume stays for a really long period of time too.
Rouge Body Perfume: The Rouge Body Perfume for Men has a very mixed smell that feels layered to offer a very dynamic fragrance at every date. A perfect choice for the heart-throb! Your fragrance creates an impression even before your words do. Rouge Noble Woody fragrance gets you all set for the perfect date night.
More offers from Amazon India