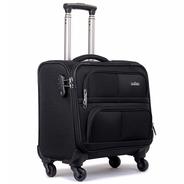 The Clownfish Wanderer 44 Liter Unisex Polyester Rolling Laptop and Overnighter Case, Laptop Trolley Bag (Charcoal Black)
About Product:-
Material : This bag has been developed in fine sturdy polyester material with rich jet black finish to ensure you take style wherever you go, it is tough and durable to endure all types conditions
Mechanism : The bag has a length of 44 cm, height of 39 cm and width of 26 cm, It is provided with a large main compartment to hold your accessories and belongings ensuring you are equipped sufficiently while travelling. It is also provided with a laptop sleeve which can equip laptops up to 15.6 in size, it is provided with additional pockets to carry small items. It is provided with a add on high quality safety lock to secure your items.
Craftsmanship and materials : The quality of the bag is not only contributed by material, but also by the use metal fittings and reinforcement materials. We have used metal zippers and sliders, durable polyester material inside the bag
Warranty : We all know polyester products can be used for many years if they are handled carefully. Why to be suspicious if it is true! Be Safe and Get warranty. Here The Clownfish Offers 365 days warranty on the product against any manufacturing defect.
Disclaimer:- "THE CLOWNFISH" is a registered trademark. Any unauthorized sellers will certainly bear the legal consequences of Copyright Infringement.
More offers from Amazon India