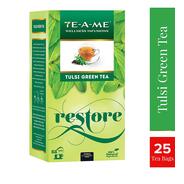 TE-A-ME Tulsi Natural Green Tea, 25 Tea Bags
About Product :-
TEA PROFILE: TE-A-ME Tulsi Green Tea is made from the fresh green tea leaves, carefully blended with hand-plucked organic Tulsi Leaves. The 100% Natural blend of TE-A-ME Tulsi Green tea consists of blend of finest Tulsi, leaving mild sweet taste in the mouth after each sip. A daily cup of TE-A-ME Tulsi Green Tea may make you feel relaxed, calm your nerves and relieve your stress, at the same time keep you alert and active.
Tulsi Green Tea may cleanse body from within and expel all those pollutants and toxins that our bodies are exposed to on a daily basis. Tulsi Green Tea is rich in antioxidants, free from sugar and contains no preservatives and artificial flavoring.
Regular drinking of Green Tea may help maintain a healthy heart as it is said to have a protective effect against cardiovascular diseases. Fresher the tea is, Healthier it is. TE-A-ME tea bags are heat sealed, processed and packaged at our own Factory. This process locks in the freshness.
More offers from Amazon India