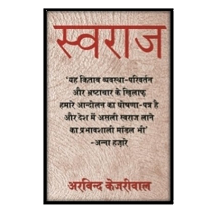 Swaraj by Arvind Kejriwal English Rs.52 | Hindi Rs.60 From Amazon.in
Swaraj by Arvind Kejriwal :
En
glish Rs.52 | Hindi Rs.60
Add to Shopping cart
Place Order
Description of Swaraj
The last one-and-a-half years in India have been defined by the anti-graft agitation led by Anna Hazare. His key lieutenant, Arvind Kejriwal, has played a central role in the movement. In 2012, as it became clear that the political establishment was not going to accede to the main demand of the movement – to pass the Lokpal Bill. Team Anna demanded the setting up of a Special Investigative Team to probe corrupt politicians. On 25 July 2012, Kejriwal, along with two of his colleagues and Anna Hazare, sat on a fast to press this demand.
More offers from Amazon India