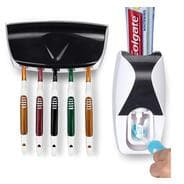 SuperKart Auto Toothpaste Dispenser with Toothbrush Holder Set (Multicolor)
About Product :-
?KEEP HEALTHY FOR TOOTH ?- keep your toothbrushes clean and hygienic, avoid the transfer of germs between brushes
?HIGH QUALITY MATERIAL?- Made of the best quality ABS + PP + PS plastic, environmentally friendly, Harmless to children, durable and safe. Environment friendly. Stick your toothbrush holder to bathroom clean glass/ceramic tile with 3M tape.
?AUTOMATIC DISPENSER DESIGN?- Hands-free to squeeze toothpaste with automatic toothpaste dispenser, to get your suitable wall amount toothpaste, perfect for kids, elderly people and the disabled. - dispense the right amount of toothpaste, helping you save toothpaste and money.
?DETACHABLE AND EASY TO CLEAN?- Easily dispenser toothpaste, and can be easily detachable to clean, no concerning about untidy or being polluted after using a long time. Easy to split and install, no need any tools.
?SPECIAL FOR FAMILY OR GROUP USE?- Holds up to 5 adult & children's toothbrushes of 1 automatic toothpaste dispenser with toothbrush holder in order, special for family or group use, perfect for shower and bathroom use.
More offers from Amazon India