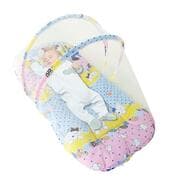 Sunbaby Sleep Bedding Toddler Mattress with Mosquito Insects Proof Net Soft Bed for Baby (0-12 Months)-Blue
About Product :-
SUNBABY SLEEP_TIME BABY TODDLER SOFT BEDDING (MEDIUM SIZE)-HAPPY FRIENDS gives your baby the most peaceful and uninterrupted sleep. The " HAPPY FRIENDS " Bedding collection is with mosquito net and thick cushioned base , pillow and side comforters and is ideal for the initial months when your baby sleeps for long durations.
The Mosquito net helps in creating a safe zone and preventing insects from biting the baby . The Net also keep it airy for the baby while protecting it.
The Bedding is reversible so you can change the side of the bedding too whenever need be. This also one of the best gifts for a New Born Baby.The soft , thick cushion made up of cotton provides comfort to the baby especially for your baby's back as she/he is constantly lying down.
More offers from Amazon India