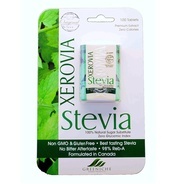 Sugar free Xerovia Stevia 100 tablets(Formulated in Canada)
About Product :-
PREMIUM QUALITY STEVIA CONTAINS 98% REB A.

100% vegetarian and Rapidly Dissolving and 0 calorie and 0 carbs.

100% Natural Sweetener, No added flavours, Chemicals or Additives.

Best balanced (Neither with sweet nor bitter aftertaste) tasting Stevia due to the unique formula.

Formulated in Canada with Associated Partner Icare INC.
More offers from Amazon India