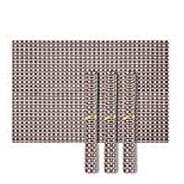 Story@Home PVC Dining Table Kitchen Placemats, 45 x 30 cm, 4 Pieces, 1 Set
About Product :-
Size: (45 x 30 cm) Or (18 X 12 inch)
Set of 4 PVC Table Mats Protects Your Dining Table from Water Marks, Heat, Spills, Stains and Scratches.
Basket Weave Texture Keeps Dishes, Plates, Crockery/Cutlery from Falling Off and Breaking.
Flexible Placemats are Easy to Roll and Store. Easy to Wash and Clean, They Dry Instantly.
Waterproof, Stain-Resistant. Ideal for Everyday Casual Dining and Special Occasions.
More offers from Amazon India