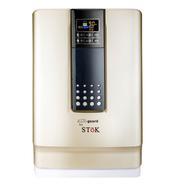 SToK HEPA Air Purifier 40 Watt with 6 Advanced Filtration System & Nanoe Technology
About Product :-
SMART CONTEMPORARY DESIGN: Its covers area(Sq. Ft.) - 325 with Remote Control. Air Flow (m3/hr): 210, CADR (m3/hr): 110 which helps in refreshing an air quickly. Also equipped with Sleeping Mode, Timer.
PUREST HEPA TECHNOLOGY: The HEPA filter removes 99.97% of impurities in the air like dust, odor, allergens, pollen, smoke, bacteria & toxic particles as small as 0.02 microns. Ideal for smokers and who suffer from allergies, nasal stuffiness.
6 STAGE FILTRATION SYSTEM: SToK Air Purifier operates with 6 advanced stages of filtration: a cold catalyst filter, a cellular-activated carbon filter, an anti-microbial filter, a HEPA filter, an ionizer, and a UV sterilizer with Nanoe Technology
AUTOMATIC AIR QUALITY CONTROL: Smart auto mode to indicate the surrounding air quality, automatically suggests fan speed to purify your air faster.
Free Shipping
More offers from Amazon India