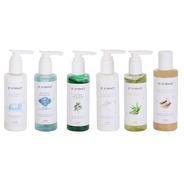 ST. D'VENCÃ Skin Care Gift Box Of Body Moisturiser Aloe Vera Gel
About Product :-
Traditional Gifting Has Globally Changed Towards Modern And Exclusive Lifestyle Products.
The Gift Box Is A Collection Of St. D'Venca Body Moisturiser, Aloe Vera Gel, Bath And Shower Gel, Tea Tree Face Wash, Multani Lotion, 100% Pure Almond Oil, Body Moisturizer - Winter Edition.
Gift The Most Sought-After Goodies To Your Relatives And Professional Network This Diwali.
It'S A Gift So Good, You'Ll Want To Keep One For Yourself.
It'S Formulated & Designed By St. D'Venca In London, Especially For The Indian Skin. Manufactured In India Under The Make In India Initiative.
More offers from Amazon India