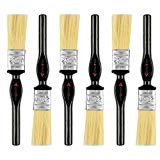 Spartan Paint Brush Multicolour Handle Set of 6 (25 MM)
About Product :-
Use with acrylic paints, varnishes and adhesives
Can be used for blending, highlighting, loose painting and bold stroke techniques
Pack of 6 (25mm each)
Great to Work with Oil and Acrylic Paints.
Paints with Precise Details with Each Stroke Covering Large Areas.
Offers Choice of Straight and Angled Tips for Rich Artworks.
More offers from Amazon India