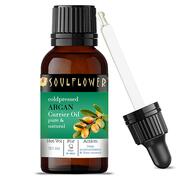 Soulflower Moroccan Argan Oil for Healthy Hair, Moisturising Skin, Nails & Lips Care
About Product :-
Soulflower Moroccan Argan Carrier Oil is finest grade of pure, natural and coldpressed oil and its deeply hydrates and moisturizes skin and hair, excellent eye serum, revives damaged-frizzy hair, and controls wrinkles formation
Soulflower Argan Carrier Oil is commonly used as a styling serum to give healthy, attractive shine to your hairstyle. Moroccan Argan Oil restores and strengthens damaged hair, protects your hair from the heat of hairdryers & curlers
Moroccan Argan Oil works as a skin moisturizer and it hydrates and softens skin. Argan Carrier Oil condition dry skin and reduce the visibility of aging signs. Argan Oil also tones and exfoliates your skin, controls acne and lightens stretch marks
Soulflower Moroccan Argan Oil benefits are not only limited to your hair and skin. Argan Carrier Oil conditions your nails, and keeps your cuticles moisturized. Argan Oil gives deep moisturization to sore & dry lip ensuring it to stay plump & soft.
More offers from Amazon India