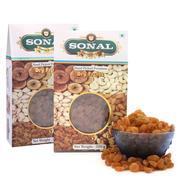 Sonal Dry Fruit Premium Regular Raisins Home Pack 200 gm (Pack of 2)
About Product :-
Sonal Raisins are hygienically packed for lasting freshness
Having a few raisins every day is good for your stomach.
Raisins contain fibres that start to swell in the presence of water. This gives the stomach a laxative effect and helps to relieve constipation.
Daily intake of raisins keeps the bowel movement regular and the fibres help to keep toxins and waste products out of the system.
Great as a snack, in cereal, or used in baked goods.
More offers from Amazon India