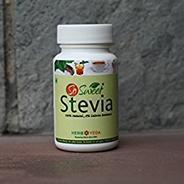 So Sweet Stevia 10 gms Pure Stevia Extract 100% Natural Sweetener - Sugarfree
About Product :-
NATURAL SWEETENER : Totally natural and perfectly sweet, So Sweet white stevia powder is derived from stevia plant extract, making it vegan, Gluten free,GMO free,all purpose sweetener,Cookabel,boilable and bakeable, 100% heat stable.
PRE-MEASURED PACKETS - Our packets make it easy to take our stevia powder to work, restaurants, while traveling, or anywhere you may want a packet handy for a quick, sweet taste with zero calories.
EASILY DISSOLVES - No excessive stirring, heating, or crunching through stubborn sugar granules. So Sweet Stevia White Stevia Powder natural sugar substitute dissolves instantly in hot and cold beverages or foods.
SWEETEN ANYTHING - Add a packet to your coffee, tea, cereal, yogurt, fruit, or anything that needs sweetening. Plus, our white stevia powder has been described as being more than twice as sweet as other brands.
Free Shipping for Amazon Prime Members,
Subscribe
More offers from Amazon India