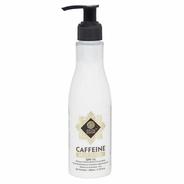 Skin Elements Caffeine Body Lotion - 200 Ml
About Product :-
AGE CONTROL FORMULA: A hectic work schedule often takes a toll on your skin; leaving it dull, tired and lifeless at the end of the day. This Caffeine Moisturising Body Lotion helps reverse these signs of stress and fatigue. It leaves your skin feeling fresh and rejuvenated, with a long-lasting, all-day effect.
STAY HYDRATED: Regular use of this product leaves skin feeling soft and supple, it also helps combat the signs of dullness, dryness, dark circles and uneven skin tone. It has a very pleasant fragrance, which lasts very long and rejuvenates your senses.
BLOCK THAT SUNBURN: Fast absorbing formula with SPF 15 , it provides long lasting moisture & protection against Sunburn, it locks in the moisture and helps you stay hydrated even on extreme dry days, your skin will absolutely fall in love with it.
More offers from Amazon India