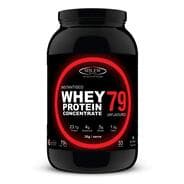 Sinew Nutrition Instantised Raw & Real Whey Protein Concentrate 79% - 1 Kg (Unflavoured)
Product Details -
This is a Vegetarian product.
EXCEPTIONAL PROTEIN PROFILE: Each 30 gm serving of Sinew Nutrition Instantized Whey Protein Concentrate provides premium quality and high performance protein with 23.7gm protein, 5gm BCAA and 4gm glutamine.
MINIMALLY PROCESSED: Each serving of 30 gm of denatured whey protein is minimally processed, preserving the delicate nutrients found in natural whey protein powder. It contains no artificial sweetners, banned substances or flavors and is Gluten-free and Non-GMO.
HIGH BIOLOGICAL VALUE PROTEIN: Made from superior American WHEY PROTEIN, this unflavoured protein powder digests faster and has higher biologically active components making it's utilization in the body of the athlete efficient. It's unparalled amino acid profile makes it readily available for the activation of muscle protein synthesis and countering the catabolic effects.
ULTIMATE MUSCLE FUEL: A great amino profile makes it ideal to be used as a pre-workout and also as a post workout recovery drink supporting muscle protein synthesis. Low fat and carb content makes it ideal for the fitness freaks.
EASY TO USE: This versatile protein can be easily added to one's diet in any form. One can add varying types of flavours and easily whip up smoothies, shakes, cookies or nutritional bars for a protein boost.
CAUTION: This product contains milk and dairy derivatives, hence is not suitable for people with lactose intolerance. People with medical conditions should consult the doctor before taking this whey protein. In case of any discomfort, discontinue use & seek physician's help.
More offers from Amazon India