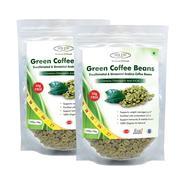 Sinew Nutrition Green Coffee Beans 400gm (100gm Free) (250g x 2) for Weight Management
About Product :-
Sinew Nutrition Green Coffee Beans are premium arabica unroasted green coffee beans, which supports your weight management goal and boosts metabolism.
Decoction of Sinew Nutrition green coffee beans acts as natural appetite suppressant which regulates food craving and controls appetite.
100% veg, pure and safe organic green coffee beans, fortified with antioxidant (GCA) a natural appetite suppressant| Also available in powdered form, Search for B01N97DQ23 | B01NBRUFA5 | B01MSOV42B | B01N4V75KY in the search bar.
Effective for both male and female weight management, One stop solution to all your weight management problem.
If we soak overnight or boil the Green Coffee Beans, their color will turn Green to White. Change in color is the correct product attribute & classification.
More offers from Amazon India