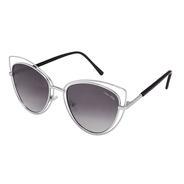 Silver Kartz Black Gradient Double-Link Aviator Cat eye Sunglasses (wy217)
About Product :-
Material used: Light weight cellulose acetate, beta-titanium material used to make the finest frame, so that you never compromise on quality, and you feel the smooth spirit around your ear while wearing this sunglasses side-arm temple.
Lens Technology: Composite blended nylon used to make the perfect pair of lens as they are up to 5 times more impact-resistant than plastic or glass lenses and they provide 100% protection from the sun's harmful UV rays. It is also lightweight; adding to the comfort for your eyes so that scorching sunrays would never affect your priceless eye vision. It also has "UV 400 protection" which blocks all light rays with wavelengths up to 400 nanometers. (This covers all of UVA and UVB rays.)
Size guide: Its size is Medium, it can fit to any mature or semi mature face, lens width is 55mm, front bridge view is 142mm, and side temple width is 136mm. We always endeavor to work on sunglasses sizes so you can find the perfect fit sunglass according to your face width. This product comes with six months warranty against manufacturing defects.
Free Shipping for Amazon Prime Members,
Subscribe
More offers from Amazon India