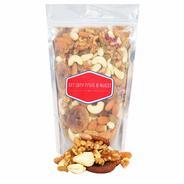 SFT Mixed Dry Fruits Premium Quality Nuts 500Gm
About Product :-
SFT products are procured directly from growers and are processed and packed in our hygienic processing plant to retain their natural freshness, aroma and the original nutrients.
With natural sugars and fiber, zero cholesterol and fats, and a variety of delectable flavors, dry fruits and nuts are an easy source of all essential nutrients. The right and regular mix of almonds, cashews, pistachios, dates, raisins and other dry fruits and nuts are all you need to maintain a healthy lifestyle.
They also consist of significant calories per serving. If one is on weight loss regime, he/she may want to limit intake of calorie content foods. But dry fruit can be a tasty treat as well help in reducing weight as a handful of Dry fruits, curd/milk and cornflakes make for a healthy diet and due to the high fibre contentthey keep you full throughout the day.
More offers from Amazon India