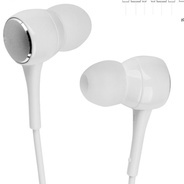 Hugo SSKK In Ear Earphone with mic
About Product :-
OUTSTANDING! (Assorted Color) Powerful, deep, rich bass, crystal clear sound and audiophile quality. With excellent Noise Isolation that effectively blocks ambient noise, you can listen to your music comfortably without hearing fatigue.
SUPERIOR PERFORMANCE! HD Voice Clarity and Call Receive / Cut Button - a high quality mic that is correctly positioned allows you to speak directly into the microphone and have effortless conversations. Works with Android, iPhone, Samsung, OnePlus, Motorola, Xiaomi, Lenovo, Laptop and PCs.
DURABLE! Rugged and Silicon Construction. Stop wasting hard earned money on flimsy, fragile earphones that cost a lot and stop working in a few months.
FUNCTIONAL! Durable Earphone with Tangle Free cables and Call Receive / Cut and Play / Pause Button (Change Track on Double and Triple Click) makes it easier to have long lasting, tangle and frustration free music and call experience. These sweat resistant earphones are great for running and gym workouts.
More offers from Amazon India