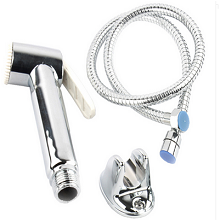 Royal Bath Health Faucet Complete Set - Ivory Rs.299 From Pepperfry.com
Pepperfry offer you Royal Bath Health Faucet Complete Set - Ivory at a discounted price of Rs. 299 only plus FREE shipping. It has been designed to perfection to give it finesse so that it could deliver a sophisticated look to the appearance of your bathroom. The product set is sleek and tough and it can be fitted easily on any of the walls of your bathroom, irrespective of its size and shape. It allows you to you it regularly, without hassled maintenance issues. This a very reasonable price online as compared to the market rates. Let your day's tiredness melt away with these awesome deals!
Add to Shopping cart
Final Price:- Rs.600 - Rs.301 OFF = Rs.299 + Free Shipping
Place Order
Item Details:-
Brand: Royal Bath
Dimensions: 6Inch length with 5Inch grip of Gun Tube length: 39Inch
Pack Content: 1 Gun, 1 Holding Hook, Screws & Sleeves, 1 Flexible S.S. Hose (1 mtr), 1 Teflon Tape, 2 Spare Washers.
More offers from Pepperfry.com