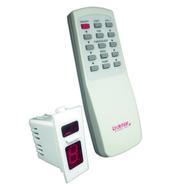 Recosys Innovative Modular Remote Switch For Light And Fan With Sleep Mode And Timer
About Product :-
With 2 outputs- 1. FAN up to 100W with 8 step speed regulation(Electronic Regulator)
- 2. Single Light up to 100 Watts.
- One Digit Seven Segment Digital Display to display Status of Speed,Timer,Sleep Mode,Light,etc.
-Sleep Mode-When activated fan speed decreases by one step every hour till it reaches one.
- Timer-1 to 9 Hour timer to switch ON or Off the Fan (in step of 1Hour).
More offers from Amazon India