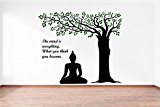 Rawpockets Decals ' Lord Buddha under Tree and Quote on Mind ' Extra Large Size ( Wall Coverage Area - Height 95 cms X Width 110 cms )(Pack of 1)Wall Sticker
Product : Self Adhesive, Matte Finished, High Quality Vinyl Based Cut out wall sticker rolled in Hard Tube
Height 95 cms
Width 110 cms
Installation : Do It Yourself with your imagination.And Don't limit yourself with Walls,Try it on Doors,Fridge etc.
Caution : Don't apply to Textured, Rough or Uneven Surface, Which will weaken the adhesive strength and also Avoid applying it on Surface with moisture or direct sunlight. Disclaimer : All Images are digitally enlarged to provide better view of product, hence images stand no reference for product size comparison. Refer description section of size and quantity details.
More offers from Amazon India