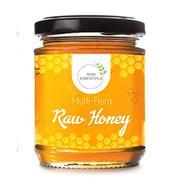 Raw Essentials Multi flora Raw Honey 350 g (Pure, Unfiltered)
About Product :-
100% Pure, Raw, Unfiltered Honey, as gathered by the bees
We Do Nothing To The Honey Except Carefully Package it in A Manner That Will Not Alter its Natural Quality or Change its Delicate and Rich flavor.
Makes a wonderful elixir during cold season when blended in hot water with lemon and ginger.
Bursting with natural enzymes and minerals.
More offers from Amazon India