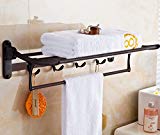 Primax Platinum High Grade Stainless Steel Folding Towel Rack (2 feet Long) - Brown
About Product :-
Made from High Grade Stainless Steel Material.
Low Space Consumption. 4x2=8 Hooks on the Below Bar so it works as towel rack as well as hook rail.
Long last Shine and Strength. Extra Long : 2 Feet (24 Inches).
Folding & Easy to Fit. (With Free Fitting Materials - S.S. Cap Screws & Roll Plugs).
Made in India.
More offers from Amazon India