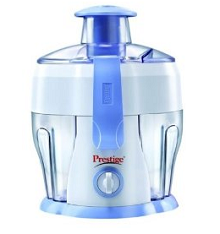 Prestige PCJ 6.0 300-Watt Juicer Rs.1488 From Amazon.in
Amazon offers you Prestige PCJ 6.0 300-Watt Juicer at a discounted price of Rs.1488 only. This juicer ensures that fruits and vegetables are squeezed and not chopped to extract the juice. This makes sure that the juice remains tasty and consistent. The juicer also does not separate the water and pulp, allowing for purer juice. Moreover, the juicer is designed to be durable enough to withstand everyday use and comes with an induction motor that does not make any noise. This is one of the lowest online price that we've found. Shop now before the deal expires. Offer limited.
Select Seller
Air A Sourcing Company, Olympia Industries Ltd., RK HOMEWARE and INDIA RETAIL
.
Add to Shopping cart
Extra 25% OFF automatically applied at checkout
Place Order
About product:-
Warranty: 1 year on product
Power: 300 watts
More offers from Amazon India